March 10, 2017
Facebook Launches Its First Gear VR App, Facebook 360
Every day there are many 360-degree photos and videos uploaded to Facebook and with the new dedicated virtual reality app Facebook 360, viewers can browse their favorite content more efficiently.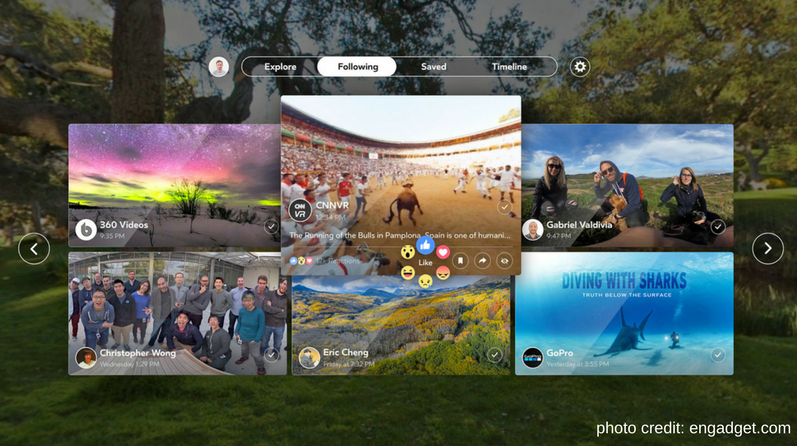 When the app debuts, it will contain a basic interface with four tabs that help the user browse and launch 360-degree media.
As seen in the photo above, the app will contain an "Explore tab", a "Following tab", a "Saved tab", and a "Timeline" tab.
The "Explore" tab will give users a bird's eye view at the popular Facebook 360 content from a variety of media companies and creators.
The "Following" tab will let users view the content being uploaded by their Facebook friends.
"Saved" will give users a chance to experience 360-degree media they may have seen on the web in a riveting in-headset experience.
Lastly, the "Timeline" tab will let users see their own 360 content all in one place.
The app will allow users to post reactions to the 360 content as well as save and share the content.
At launch, the app will be available only for the Gear VR mobile headset and users can download the app from the Oculus store.
According to Facebook, there are more than 1 million 360-degree videos and 25 million 360-degree photos have been posted to the platform to date.
With Facebook 360, the company is trying to ensure that 360-degree content is seen by the largest possible market.
What do you think of Facebook 360? Share your thoughts on our Facebook page.
Check back weekly for more GreatLike Media blogs on digital marketing and social media. GreatLike Media is an Orange County digital marketing agency.
Stay great!

Back to main posts