July 27, 2016
Instagram Insights 101: What You Need to Know
Instagram Insights 101: What You Need to Know
Instagram has been a great social media platform to help large and small businesses reach their clients, and now the Facebook-owned app is ready for business. Instagram recently released their new business tools for their business users that included business profiles, analytics, and a simple post-to-ad service. The platform is said to have met with several businesses that used the app to engage customers to see how it could better serve its business users.
If you already use Instagram to promote your business and are wondering how to use these new tools, here is a quick rundown of what Instagram is offering.
Business Profiles:
First things first, in order to access all these fancy tools, you will have to upgrade your profile to the new business profile. Like Facebook, a business profile is similar to a normal profile with several tweaks and tools deisgned specifically for businesses. Before everyone goes off to make their personal profile into a business profile, let me say that this upgrade is not available for everyone at the moment. To check if it is available, go to settings, check under account, and it should say Switch to Business. Tap it, and verify your account through Facebook. If you manage multiple facebook accounts, Instagram will give you the option to choose the corresponding account.
So now that you have upgraded your profile and have been verified by Instagram, what happens now? You will receive a contact button next to your following button. This tool lets customers contact you directly or find your location. A clickable address link will also appear below your URL which will open up in map applications, so that customers can get directions to your location.
Now that you know what a business profile looks like, let's dive into the analytical tools that Instagram Insights offers. For this you will click on the graph icon on the top right corner.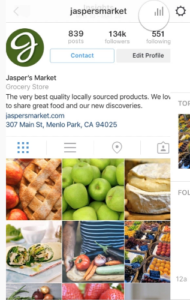 Post Analytics:
Top Posts:
Similar to Facebook Insights, this tool will let you view data on impressions, reach, website clicks, and follower activity. Here you can see how your currents posts are doing and how past posts have performed. The impressions describes the total number of times the posts have been seen, and the reach describes the number of unique accounts who have seen it. Website clicks will tell you how many times users have clicked on your website link on your profile. This tool will also let you see your top posts by impressions in 7-day and 30-day periods, which will help businesses gauge how their posts reach users. Your top posts will show you how many people have actually seen the post, not just liked it. This will help you see how many people you reach, outside of your followers, and how many people engage with it.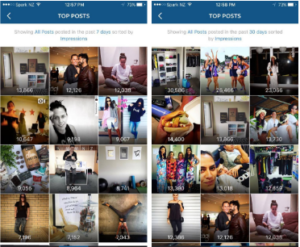 Follower Analytics:
Activity:
This tool also lets you look at your followers to help you focus your posts. The Follower Activity tool lets you see the average time your followers are on Instagram on a typical day or by day of the week. By seeing how often and when your followers are on the app, you can arrange your posting schedule to better engage with them.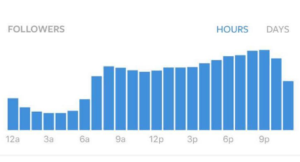 Location:
You can also use the follower analytics to see where your followers are. You can filter by country or get more specific infromation by filtering each person's city. Big or small, businesses will find this useful in who they are trying to reach.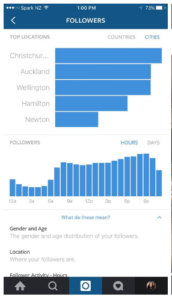 Demographic:
And of course we cannot leave out demographics. Marketers everywhere can't wait to get their hands on this information and here's why. With this tool, you can see the sex and age of your followers. Much like Facebook's Insights, you can now see the statistics of who is following you on Instagram. Depending on your business and whether it is focused on an age or sex, you will now know the percentage of followers and if you're meeting your target. Having a target audience is imperative to any industry, and now businesses can see if they are reaching that target, or if they have an under-served audience. Regardless, this tool will help you get to know your followers better.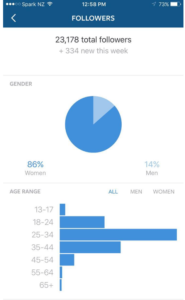 Promote:
The last tool that Instagram offers is an exciting one. Instagram will now let you take a top post and create an ad with it, on your mobile device. Of course you can go through Facebook's Ad Manager and post ads on Instagram and define your target audience, but this tool focuses on simplicity and speed. If you are a business that has not yet dabbled into a social media marketing plan, this might be a great start. Instagram will even offer suggestions based on audience and budget to make your life easier.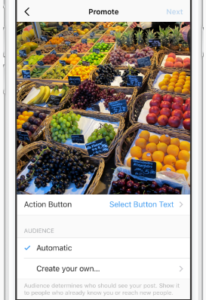 Now that you know the basics of Instagram Insight, you can make a choice of whether or not a business profile is right for you. These tools will help you better understand your followers and possibly better utilize the app to help promote your business and have more people visit your website. For more social media marketing tips contact Greatlike Media and follow us on socials.

Back to main posts