July 19, 2023
Top 10 Impressive Features of Apple Vision Pro
From the day Apple announced its new AR-powered spatial computer vision device apple vision pro on June 5, 2023, at its Worldwide Developers Conference (WWDC), it has become a talking point at almost all tech meetings and conferences. 
Augmented Reality and Virtual Reality are the two technologies that have been explosive in the last decade. For businesses, these technologies can uniquely serve their customers and offer a seamless experience. A recent development is the Apple Vision Pro headsets that Apple will launch soon. 
Once it is launched, businesses can hire Apple Vision Pro development companies to develop apps that can support the headsets to map digital technology in a physical space. 
As revealed at the conference, the Apple Vision Pro headsets will seamlessly blend AR and VR with a real-time physical world to offer users a highly mesmerizing and interactive experience. 
If we believe the promotional campaigns run by Apple, the Apple Vision Pro headsets will add a milestone to wearable technology. 
In this post, we will discuss the top ten awe-inspiring features of  Apple Vision Pro that will leave long-lasting effects. 
Apple Vision Pro: Top 10 Features
3D Layered Responsive Design
Though many wearable devices and headsets are available in the market, not all can accurately overlay digital elements in the real-time physical world. However, we can expect Apple Vision Pro to be an exception here. 
This wearable technology has a 3D layered User interface that will seamlessly use the advanced technology to wrap on top of the physical world. It will offer a breathtaking experience to users.
Furthermore, the dynamic digital overlay of Vision Pro will also create natural shadows based on the natural light. 
An advanced LiDAR sensor and a front camera will help perform a 3D mapping of the physical environment to offer an immersive experience to users. Also, the UI will be highly scalable as per your unique custom business requirements. 
Pathbreaking VisionOS 
There are many other exciting features available in Apple Vision Pro. Apple developed VisionOS, a dedicated operating system to support the Vision Pro handset. 
This operating system has some pathbreaking features for spatial computing, such as a 3D interface, highly-immersive environments, and the app store with a new design. You can learn more about these exciting features by clicking here. 
Better Display 
The display is the best Vision Pro feature as it does not strain the eyes and offers a pleasing experience. A feature called Crown can help you adjust the intensity of the environment. You can melt the physical world and drown in the digital world at any given point. All you need to do is adjust the Crown, and you are good to go. 
Apple Eyesight 
When immersed in Vision Pro's environment, outsiders can see what is happening to you. A new feature called EYESIGHT can help people to see their eyes through the headset. Apple makes This feature possible by lighting up the external display, creating an impression that the headset has turned transparent. 
Furthermore, it is an automatic process. The headset will turn on the Eyesight feature when it notices someone nearby. It also shows what the headset user is doing. 
Not just that, the headset user will also see the outsider over their environment. The main aim is to keep you connected to the physical world around you, even when you are in the immersive digital world. 
Environments Support
Apple designed Vision Pro in a manner that naturally turns your real world into a digital world. Not just that, it also has a feature called Environments that has highly immersive and beautiful landscapes that will enhance the experience to a great extent. 
With the help of Crown, you can adjust the intensity of the Environments. It will help you forget the surroundings to enjoy the virtual world. 
Spatial Audio 
Vision Pro's headset headband has dual-driver audio pods capable enough to offer you the best sound experience for the visuals you are witnessing. 
The best part of these audio pods is that they use Apple's spatial helpful technology, which makes users believe that the sound comes from their surroundings. It is one of the best features of Vision Pro. 
Captures Spatial Photos 
Not just spatial sound, Apple Vision Pro will also be able to create high-quality 3D-like images and videos with the help of front-depth sensors. With this capability, you could offer your audience the best user experience if you have hired an Apple Vision Pro development company.
These images and videos that you have taken can be seen anytime. At the WWDC conference, Apple demonstrated this feature live, where a headset wearer stood still while the headset took an image. 
However, whether you can transfer of these captured images and videos to your iPhones or iPads is still being determined. It should be possible before Apple releases the headsets. 
Dedicated Chip for Low Latency
Apple Vision Pro will perform multiple tasks simultaneously. It will need more power to continue doing so. Apple already discussed this issue at the WWDC. 
They said the headset might face specific difficulties as it requires more power to function optimally. Apple first used a dual chipset combination with an M2 Silicon chip and a brand new R1 chip to meet this demand. 
Both these chips will perform different tasks. For example, the M2 chip will drive computational power inside to keep the headset cool. On the other hand, the R1 chip will keep the visual latency minimum up to 12ms. Apple claims this visual latency is eight times faster than the human eye. 
This feature will allow users to experience things in real time without lagging. Also, the R1 chip will excellently process the inputs from the headset to offer a highly immersive experience to the user. There will be no input lags with Apple Vision Pro. 
No Need for Any Extra Equipment 
You don't need any extra equipment when you have Vision Pro. It is Apple's most significant achievement. Users already have the equipment in body parts, such as hands, eyes, and voice. They will be able to use these body parts to operate the headset. 
Vision Pro has in-built four depth sensors that will read your finger and wrist movements and gestures to read the signal and register an input. 
There is no controller equipment with Vision Pro headset, and this is an unprecedented move by Apple. Users will rely on cameras and sensors to operate the headset, and it is something new to experience. 
Realistic Digital Avatar 
You must be familiar with the digital avatars on Instagram and Whatsapp that can mimic your facial expressions. However, Vision Pro's digital avatar will take it to the next level. 
Vision Pro will create a lifelike digital avatar using the front Sensors and machine learning technology. Not just that, you can also use this digital avatar to chat with other users. 
The demo showcased at the WWDC clearly showed the real-like features of the person, including their facial and hand movements. Apple claimed in the WWDC that the process had been trained on thousands of persons. Apple also uses internal IR and downward cameras to make this feature possible. 
Iris Scanner 
The IR camera we discussed does not just scan your face. It does more than that. It also makes real-time eye scanning possible with Vision Pro. Experts believe that it is the best feature of Vision Pro. 
This new authentication method analyzes a person's iris and then matches it to the enrolled data in the headset.
Furthermore, all these data are processed in Apple Vision Pro itself with the help of a Secured Enclave Processor.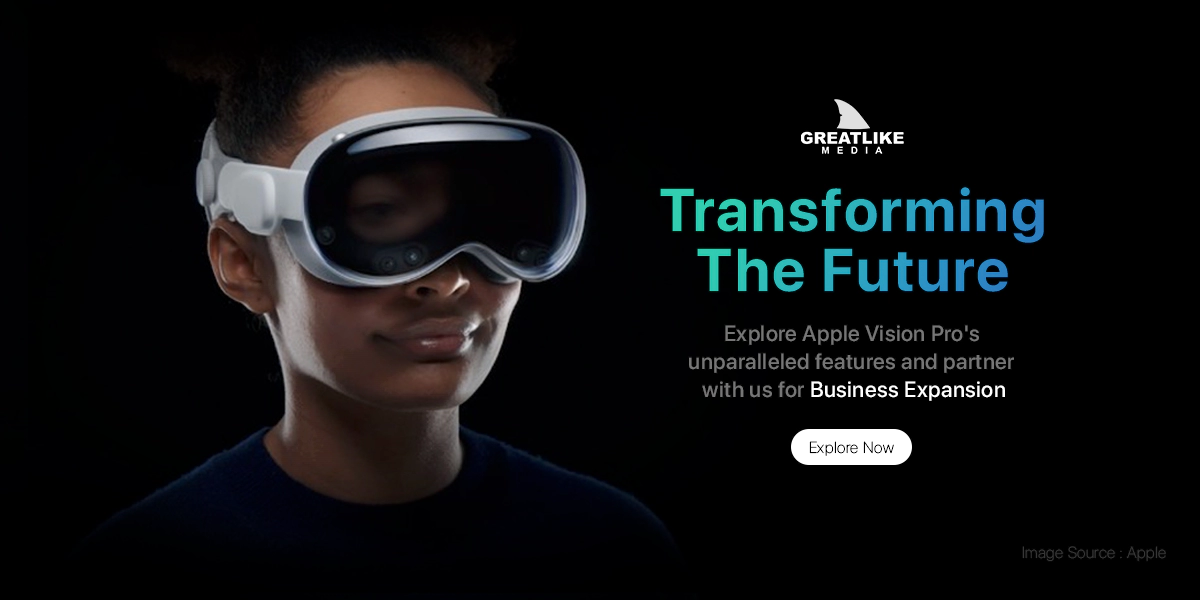 Conclusion 
Apple Vision Pro is the latest feather in the cap of Apple. It has many advanced features that will give people a highly immersive user experience. Businesses are now looking for opportunities to use Vision Pro headsets to offer customers a unique, immersive, and seamless user experience. 
All you need to do is hire a professional Apple Vision Pro development services provider to grab the opportunity to serve your audience better and meaningfully. 

Back to main posts