April 23, 2019
Reasons why your business needs a mobile app
Statistics show that consumers spend over 5 hours on their mobile devices and it continues to increase with time. This is a perfect opportunity for businesses to use this to their advantage and help improve their business. This is when having a mobile app for your company comes into play.
Our Orange County web design experts at GreatLike Media understand the importance of having a mobile app that matches your company website. There are several advantages to having a mobile app for your company, below are three of them.
1. Visibility
Being on multiple platforms such as having a website, social media channels, and a mobile app will make it easier for the consumer to be able to access your company. It is important to keep in mind when being on multiple platforms, to make sure that your company "image" and design correlate through all of them. Incorporating different designs and graphics can confuse consumers. Ensuring your company has a concise look throughout all channels is crucial in making your company known.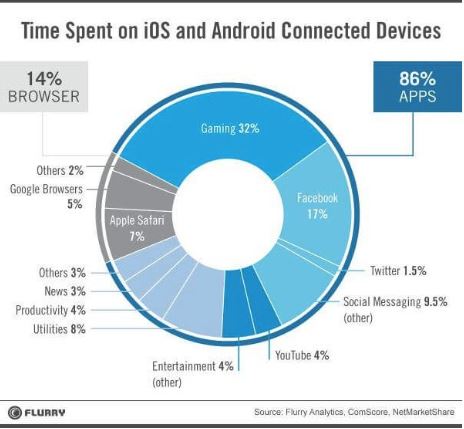 As shown in the graph, 86% of users spend most of their time on mobile apps. Many people are always on the go, making mobile apps easy and fast to access. Technology is constantly going to be evolving so hopping on the bandwagon and having an app for your company is of great benefit for not only your company but the consumer as well. They can be able to access your company and its products/services without having to be behind a computer.
2. Brand Recognition
Giving users the opportunity to access your company through a mobile app can contribute to increasing awareness to your brand. On your mobile app, you are able to customize it and include what information from your company you want on it. There is no specific layout that needs to be followed, this gives your company the freedom to do what you want with it.
3. Differentiation
For most small businesses, having a mobile app for the company is rare. By creating a mobile app your company can be seen as innovative and technologically savvy. Many consumers are drawn towards companies that are moving forward with the future as opposed to staying in the past. Make your company stand out with a mobile app!
Explore the top mobile app development companies in Orange County at DesignRush and bring your app ideas to life.
Don't know how to start building a mobile app? Don't worry, our Orange County web design experts at GreatLike Media can help. We specialize in creating conversion-oriented mobile applications. Our goals for your mobile app is to not only provide users with a smooth, content-friendly interface, but to build an app that converts users to paying customers. Feel free to contact us or visit our website for more information!

Back to main posts