July 11, 2017
Guide to Successful SEO for E-Commerce Sites-Part 1
In order to have your business noticed, it is vital your website ranks on the first page, or even better, the #1 spot. SEO is the sure-fire way to insure your website ranks higher amongst your competitors. In this article, we go over how this Dallas web design company can boost your SEO for your e-comerce website.
Have you ever heard of Click-through Rate, Impressions, or Conversion rates? If so, great! If not, stay tuned as those three terms are key signals as to whether your SEO is going well or needs to be revamped.
With this guide to SEO, a new website or one just looking to improve will learn suggestions and tips to stand out. Having the first spot on Google will make all the difference when competing for customers online.
Read this simple step-by-step guide to understanding and utilizing SEO to achieve the level of online marketing you desire.
Part 1: Research
To begin the process of SEO, Search Engine Optimization you must do keyword research and competitor research.
This is important because if you choose the wrong keywords, your competitors will rise to #1 and you will lose traffic, have fewer conversions, and ultimately ruin your campaign.
A: Keyword Research
1: Keywords for your homepage and product pages
Search volume, ranking difficulty, and relevancy are most important when deciding which keywords to pick.
Using Google's free AdWords keyword planner is the way to begin, but just be aware your competitors also have access to it.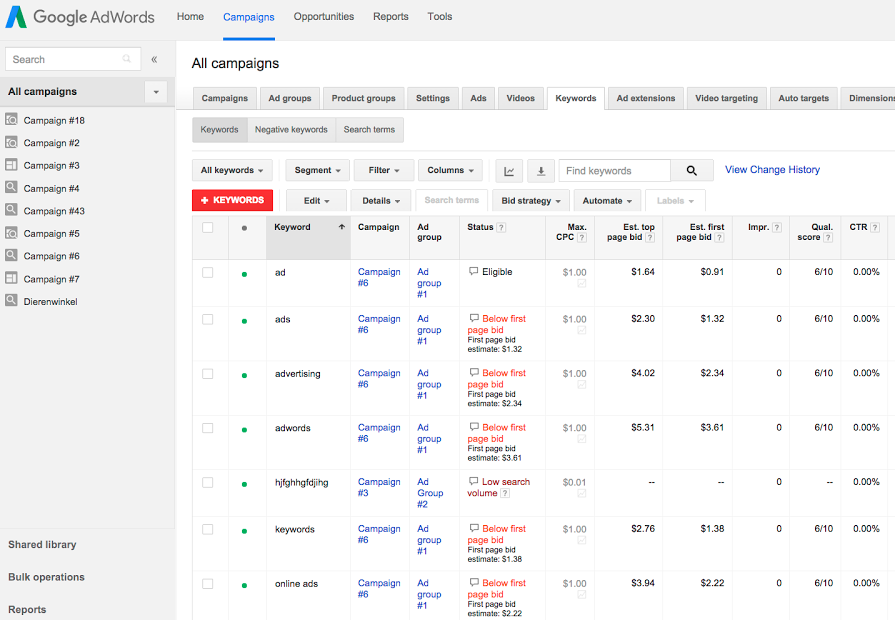 Provided by Google
The key is to choose words that are specific to what your product/service. If keywords are too broad, then you will get traffic that you don't need or want, causing low conversion rates and a high bounce rate. If you are too similar to your competitor's keywords, you may go unnoticed and never rise in ranking.
To help you in deciding, use informational keyword along with a commercial keyword. For example, informational keywords would be "how to brew tea" and commercial keywords are catered to what your business does, "order tea online". This works because not every customer knows exactly what they are looking for, but if you inform them about something they're interested in, chances are they will then want your product.
It is also a good idea to survey your customers and prospects. Get suggestions of keywords your own customers used to gain more of the same!
2. Long-Tail Keywords
If you want to boost your website, blogging relevant and interesting content on your e-commerce site can help place you higher in the Google rankings. With this technique, utilizing long-tail keywords then becomes helpful.
What are long-tail keywords you ask? They are closer to a sentence than just one keyword, so for example instead of just saying "tea" if you sell tea bags, you would include multiple descriptive keywords.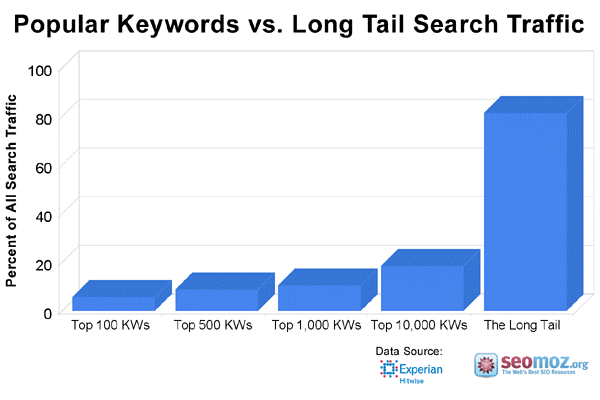 For instance, if you sell a special type of tea or brewing system, you could try something like "organic tea bags sourced locally". This allows for you to bring in a more targeted audience and it tends to be less competitive. If you are unique, use it!
One E-Commerce website that has done very well with Long Tail Search traffic is Amazon.com. Ever heard of it? They choose words and phrases that are specific to their buyers since they offer so many different items ranging from food to sports gear, as well as using their own Keyword Tool.
3. Keyword Overload
When it comes to trying to boost your website through keywords, blogging, and content, it is important not to label your landing pages with the same keyword. If you create a blog about how to make a "perfect cup of tea" and your keyword is "tea" for the blog and for your main site, Google then must decide which to send the traffic to. At that point, the blog was of no use to you.
It is also important not to cram words into your blog. If you put too much of the same thing, your content will be repetitive and boring. Learn more about the pros and cons of blogging.
Instead:
Focus on making a connection with your reader and leave them with the phrase you want them to remember most.
Educate and share your own knowledge to not only show credibility, but promote your own way of thinking.
This all ties back to SEO because Google does not want to send people to your site do to your ability to string the same word along five times in one sentence. They send people to you because your topic is clear, your keywords are apparent but not overbearing, and you are engaging. Google has a high priority on user experience.
B: Competitor Research
Now it's time to branch out from your own E-Commerce and look at your competition.
1. Your Competitor's Keywords
To know what you should be ranking for, analyze the traffic your competitors are getting from their keywords. The Moz toolbar is a great way to see if your competitors have higher Domain Authority DA's or Page Authorities PA's than you. If they have higher ones, you should look for other keywords as to avoid the high competition.
2. Links
It is important if you are using links within your e-commerce, they are coming or going to a site with a large DA score. Therefore, you can find what sites your competitors are using for their internal links and then try to link your website to those same sites. Just make sure you aren't tying yourself to another site that could potentially damage your own DA score. Such as spamming or low quality webistes.
Within your site, you should have links as well. If you mention a product on one of your landing pages, make sure there is a link included that will easily take the reader to the product they are now interested in. For example We help companies of all sizes with their SEO needs on page and off page seo serives read more about them now.
3. Specialize your SEO
Google's head of web spam, Matt Cutts said " A lot of people [think] there's someone recipe, and you can just follow that like baking cookies, and if you follow it to the letter, you'll rank [a higher] number". There may not be one specific recipe that suits everyone, but modifications and substitutions can be made with any recipe, which is why these steps will help you in creating your own special and unique recipe for SEO.
Now that you have done the preliminary research to insure your site is properly being noticed by google and you have keyed into the right words for your target consumer, you must look internally. In Part 2, we will discuss the potential problems that could exist within your website, varying from speed to structure. (Stay tuned we are in the process of writing part 2. Start on part one work and we will be done with it by the time you are done with the research). This Dallas web design agency sure won't disappoint in part 2.

Back to main posts