August 16, 2023
Website Design Optimisation Tips for Better SEO
If you have an existing website that does not bring traffic, you need to fix some underlying web design issues.
On the other hand, if you are developing a new website, keep SEO guidelines in mind while designing the layouts of the website. It will help you rank higher than your rivals on SERPs. 
Why does your website's design is crucial? Because this is the first thing that your visitors will interact with. Would you like to spend more time on a cluttered, poorly-designed website page? What will you do? You will simply abandon the website. 
So will your visitors if you need to design your website better. 
Do you know that 57% of internet users have declared that they will not recommend a website to others if it is poorly designed? 
Not just that, in today's cut-throat competition era, it is crucial that your website ranks higher on search engine results such as Google, Yahoo, and others. 
Having an SEO-friendly website design is the need of the hour. Before we discuss more about SEO-friendly website design, let's understand in brief about SEO. 
Why is SEO essential for business?
Search engine optimization is a digital marketing approach that organically brings genuine leads to your website. You need an SEO-optimized website to reap the fruits of this powerful digital marketing approach. 
Google strongly believes in offering highly valuable and search-centric results to visitors. Google has an algorithm ecosystem that indexes each page of the website. Based on various ranking factors, Google evaluates a particular page and ranks it accordingly. 
You must have an SEO-optimized website to be in Google's good book. An SEO strategy does not just help bring more genuine leads to your website, it also improves your brand's reputation. 
For example, when you have a website with valuable content, Google will rank your website at the top of the search engines. People will visit your web page for queries they have generated. Slowly, they will look forward to what you say on important industry news or updates. Your brand will be treated like an industry influencer. 
What is the Relationship between SEO and website design?
Your website's design is a significant ranking factor. If the design is poor and does not impress the visitors in the first place, they will abandon the website.
A recent study revealed that 38% of users will abandon a website if the design layout or content is unattractive. 
There are various SEO-friendly web design aspects that you need to keep in mind, such as
The design should be clean and concise,

The design should be easy to navigate. 

Users should be able to find what they are looking for. 

You should use proper and relevant fonts and images. 

Content should be original and valuable. 
When you have an SEO-friendly website design, users will likely spend more time on it. It will signal to Google that your website offers valuable information to users. Google will rank your website accordingly. 
Users will also be likely to click on CTAs when they enjoy the experience on your website. It will automatically help you rank higher on search engine results. 

Impact of page speed on user experience and SEO
Do you know that improving your website's loading speed can prevent the loss of 7% of possible conversions?
Not just that, another study revealed that 47% of users expect a web page to load in two seconds or less. 
If your website takes more time to load, it will affect the user experience. Most probably, users will not come back to you. They might just go to your competitor. 
A poor loading speed does not just affect the user experience, it also affects your website's rankings as well. 
Page speed is an important ranking factor, and if your website does not load fast, Google crawlers will consider it a drawback. It will rank your website accordingly. 
The role of URL structure in SEO
Google reads URLs. 
You need to include your web page's primary keyword in the URL to inform Google about the page and what it is all about. Whether a service page or a blog post, include only a main primary keyword in the URL to explain Google crawlers about a page. 
Conduct thorough keyword research for each page to get the maximum impact. An SEO-based URL structure helps Google to rank the page based on appropriate keywords. Keep URL slugs easy to remember and add to a URL when someone looks for a particular page. It is the best website design optimization technique to attract more users to your page. 
Optimizing images and multimedia elements for SEO
For better SEO of your pages, you also need to optimize images and multimedia elements. A poor loading speed is due mainly to large-sized images that take time to load. You need to do something about it to shorten the loading time. 
For example, you can compress large-sized images to load them instantly. However, image optimization is about more than just compressing them. 
You can add names to the image to let Google crawlers understand what a particular image represents. Crawlers cannot read images but can read the image description. 
Incorporating schema markup in website design
Schema markup is a type of structured data in the code form that help search engine crawlers to understand your page and its content elements. 
It is a language that search engines use to understand and read your website content. Here, we are not discussing a general language, we are discussing a semantic vocabulary in the form of code that search engines use to characterize and categorize web page contents.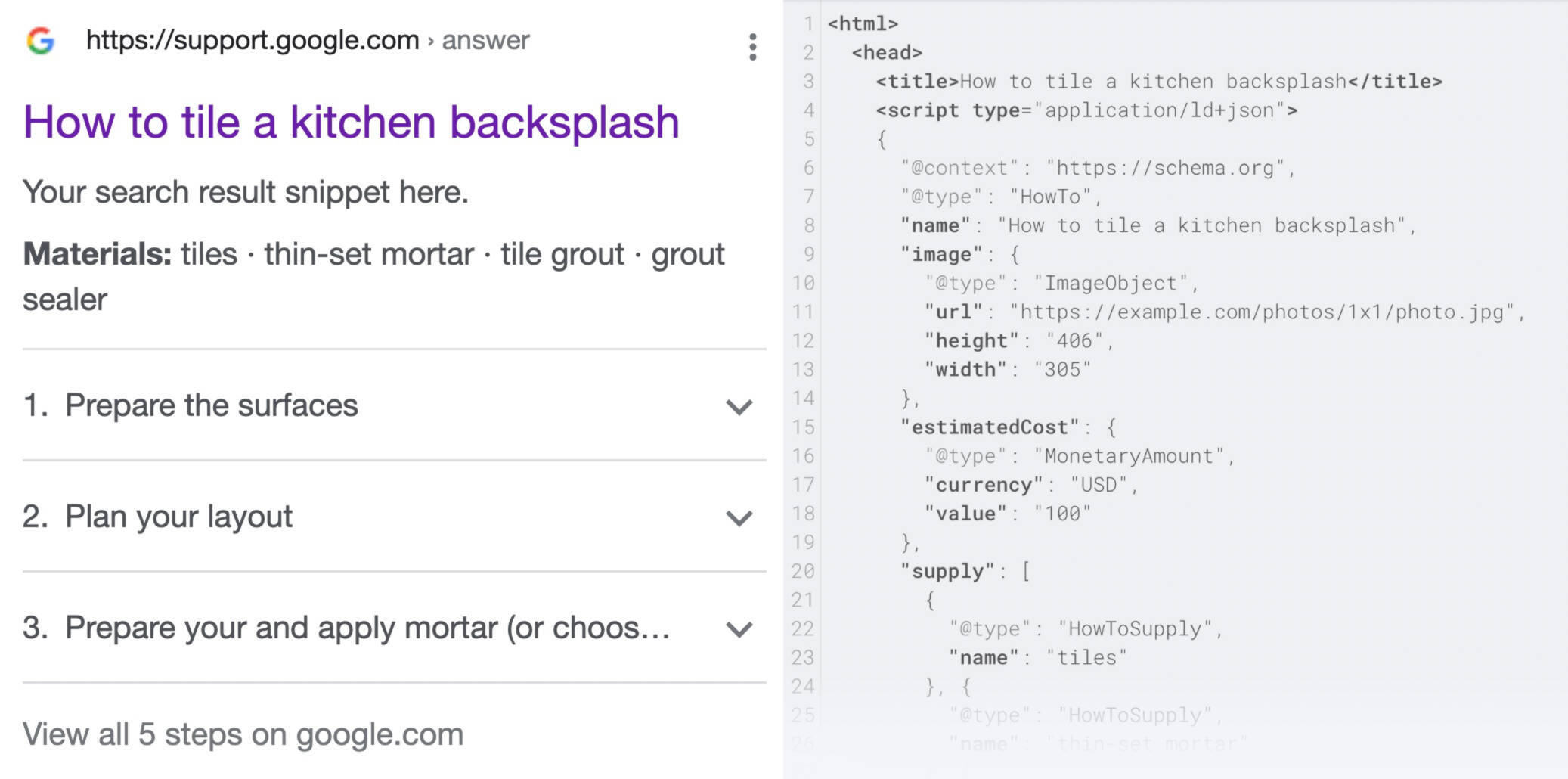 Image: Semrush.com
Check out the image; you will understand how to add schema markup to your website for better results. 
Even though search engines use powerful algorithms, they cannot visualize things like humans do. They can just read. Adding schema markup to your content can help search engines understand the page's meaning. 
It helps Google and other search engines to understand what the page is all about. It is like a pair of glasses that helps search engines see things. 
There are 32 schema types Google understands, such as article, blog, breadcrumb, course, dataset, fact check, FAQs, home activities, image license, etc. 
Top tricks to optimize your website design for better SEO
Now, let's check out some website design optimization techniques to get better SEO rankings. Stay tuned!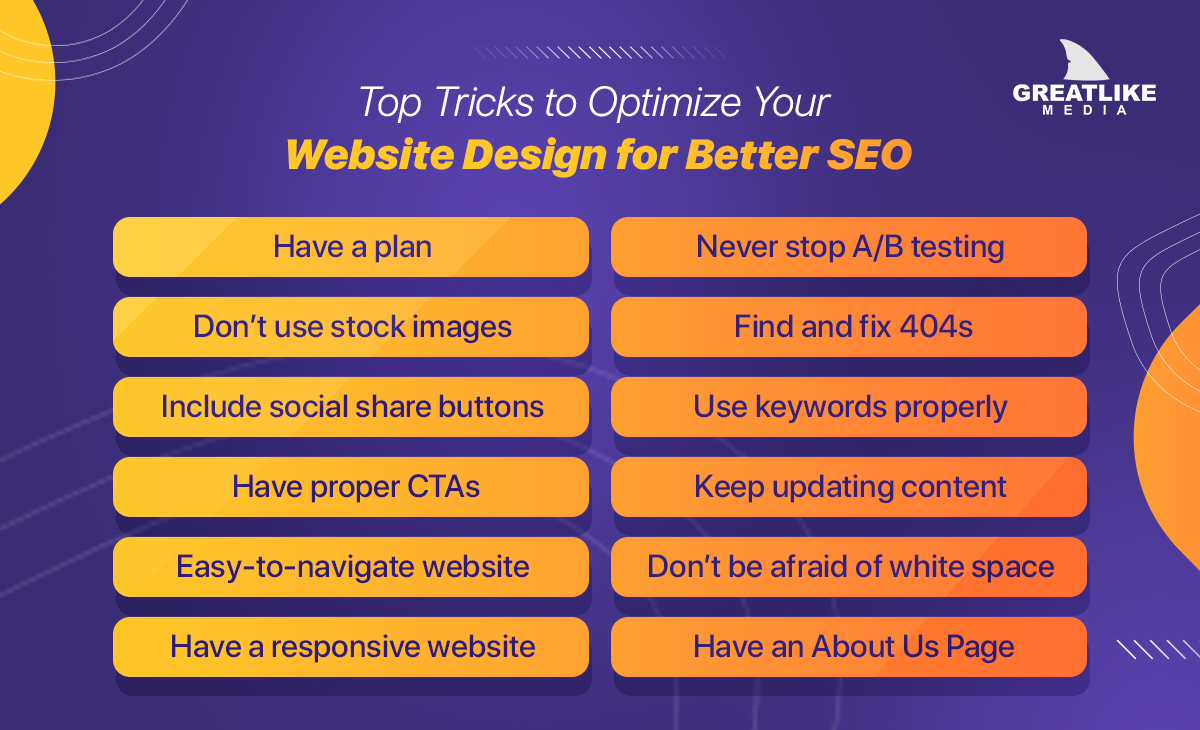 Have a plan 
First of all, you need to have a plan for your website. Research your target audience, competitors, and market. This is the first step to designing a website. 
Define your purpose for building a website and future goals. Keep scalability in mind. What kinds of actions do you want visitors to take to maximize engagement? These are some important questions to answer in the planning stage. It will help you to have a clear roadmap for your website design optimization. 
Don't use stock images 
Using stock images is a big no for website design. Have original images that can be optimized perfectly. Using stock images will not only hurt your SEO efforts but also put you in a bad perspective among your visitors. It is not a good practice to go with your audience. Avoid using stock images. 
Include social share buttons 
Adding social share buttons will allow your users to share content on various social media platforms. It might bring more genuine leads to your website. People don't just use social media platforms for entertainment. Allowing users to share your content through one click will increase online visibility and improve your brand presence. 
Have proper CTAs
Adding proper Call to Action can also help you turn visits into conversions. Write captivating CTAs and place them on web pages properly to get maximum engagement. Remember, you don't need to clutter a web page with too many CTAs. it might hurt you as people might abandon the website. 
Have an easy-to-navigate website 
A visitor comes to your website to find some answers or products. Make sure that they get them without any delay. An easy-to-navigate website makes the visitor's journey more enjoyable and straightforward. Design a user interface so that a visitor can navigate a page with minimum effort. 
Have a responsive website 
85% of users believe that a website should offer a seamless experience while visiting through a mobile phone. 
Millennials access websites through their smartphones. They will not feel good if your website does not offer them a seamless and highly grateful experience. 
This is the reason why you need to have a responsive website. Responsive websites offer highly engaging and brilliant user experience from any device. 
Never stop A/B testing 
If you are a web designer, ensure that you go for A/B testing from time to time. It is all about addressing web pages that are not offering promising results. The A/B testing approach helps designers target those pages in a website that doesn't offer a seamless user experience to users. With a steady approach, you can easily reduce bounce rates and improve user experience. 
Not just that, this approach also helps you to improve pages that are already performing better. 
Find and fix 404s
When a user receives a 404 error code when it clicks on a web page, it simply means that the server cannot load the page. You need to find all those pages that redirect users to 404 errors and fix them immediately. 
Use keywords properly 
First of all, make a list of the right, relevant keywords that you want to target. Conduct thorough keyword research with advanced tools to derive the right keywords for your industry. 
Once you have the list, hire a good content writer to write web pages. A professional content writer knows how to use keywords in content properly. Keywords, when placed properly, will bring more organic leads to your website. It will also help you in ranking your website on SERPs. 
Keep updating content 
Update your website content from time to time. The simplest way is to write blogs at least once a week with relevant keyword usage. Updating content will help you drive new visitors to your website. 
Don't be afraid of white space 
Also known as negative space, white space is common in web design, and you should not be afraid of it. Rather than cluttering the page with too much information, keeping some space white will not hurt your rankings. 
Have an About Us Page 
Add an About Us page to your website.
Adding this page will help you incorporate keywords into your website, especially if you have an ecommerce website with almost no space for adding keywords. 
Not just that, users, who look specifically for your business and offerings, would get answers by visiting the page. Also, adding a story will help connect with your audience emotionally. 
Identifying and avoiding design practices that can harm SEO
Some website design practices might harm your rankings in SERPs. You should avoid them. Some poor web design practices are:
Not optimizing on-page SEO 

Not using proper fonts on the website 

Inconsistency in design, 

Poorly-designed 404 pages, 

Poor website design and layout,

Slow loading speed 

Not using pop-ups effectively and strategically, 

Overusing animations and flashes, 

Not using a sitemap, 

Highly cluttered pages 

Poor navigation

Conclusion 
Designing and implementing a smart SEO strategy can turn things in your favor. SEO might take time to deliver results, but it will strengthen your brand reputation and bring high-intent leads to your website. Going for SEO-friendly web design can help rank your website at the top of SERPs. Put in the right efforts and let genuine leads knock on your doors for conversions. 
FAQs
1. What are the benefits of SEO-friendly web design?
SEO-friendly web design can help Google to understand your web pages. Google crawlers can crawl your web pages effectively and rank your website accordingly. Furthermore, SEO-optimized web pages offer a seamless user experience to your visitors, encouraging them to take the desired actions. Also, it will reduce bounce rates and improve conversions. 
2. How much does it cost to build a website?
The cost of building a website depends on many factors, such as the scope and size of the project, the salary of developers, the location of the developers, advanced features you want to add to the website, and others. Once you share your requirements with the website development company, they can estimate your cost. 
3. What is web design?
Website design is a broad term used to describe website creation and maintenance. Some elements that fall under web design are user interface design, user experience, SEO-friendly web design, web graphic design, etc. The main aim of web design is to offer users a lucid and highly engaging user experience. 
4. What is the difference between web design and web development?
Web design is about how a website looks and feels to the visitor. Website graphic design and user experience are the two main elements of web design. Web development is all about developing the website's backend, including software development, building the site's structure, identifying and fixing bugs, etc.
5. How important is responsive web design?
Responsive web design offers a streamlined user experience to visitors who access it from any device, such as a mobile, desktop, or tablet. From an SEO perspective, mobile-friendly website design can rank higher on SERPs as it is one of the primary ranking factors. You cannot have a non-responsive website in today's mobile-driven era. 
6. What is CSS in web design?
Cascading Style Sheets or CSS is a style sheet language that determines the display of documents that are written in a programming language. CSS is the primary element that determines the colors, fonts, and page layouts of the document here. 

Back to main posts