September 15, 2023
Choosing the Right Web Design Company in Orange County
Do you want to start a brand new website from scratch, or revamp the existing one? If so, you might be seeking a web design company that is suitable for your requirements.
If you have any familiarity with web design or coding at all, you can get your site up and running by utilizing one of the many ready-made themes you can find online. The user manuals provide in-depth explanations of how to use the provided templates.
However, your website will require tweaks as your company grows in size and scope. New changes to a template will be difficult to apply. Instead of starting from scratch and risking a poorly designed website, employ a professional web design agency. 
Today, picking a web design company is easier than ever. However, you should be aware of your project needs while searching for a web design company in Orange County. If you follow the steps outlined in this article, you will be able to locate the best web design company.
You should prioritize having a well-designed website before everything else. A high-quality website contributes to brand building by motivating visitors and meeting their lead nurturing requirements. 
As a result, both conversion rates and sales go up. A user is motivated by their positive experience with the product. Therefore, it is crucial that your website's design leaves an indelible impression on visitors' minds.
What is Web Design?
The term "web design" is used to describe the steps involved in developing a website for use by the general public. It's everything that goes into making a website other than the code, like the user experience. In the last decade, there has been a huge change in web designers' attention from making sites for desktop web browsers to making sites for mobile devices like tablets.
Who is a "Web Designer"?
Web designers pay close attention to the aesthetics of a website, including its structure, color scheme, and (where applicable) typography. The typeface, color palette, and image format all have a role in aesthetic values. The structure consists of information arrangement and classification. 
A well-designed website is one that is user-friendly, attractive, and consistent with the brand's values and aesthetic. Numerous websites strive for simplicity, with no extraneous features or material. Because a website designer's success depends on their audience's approval, it's crucial that they consider strategies to ease their discomfort.
Pointers to Follow When Choosing a Web Design Company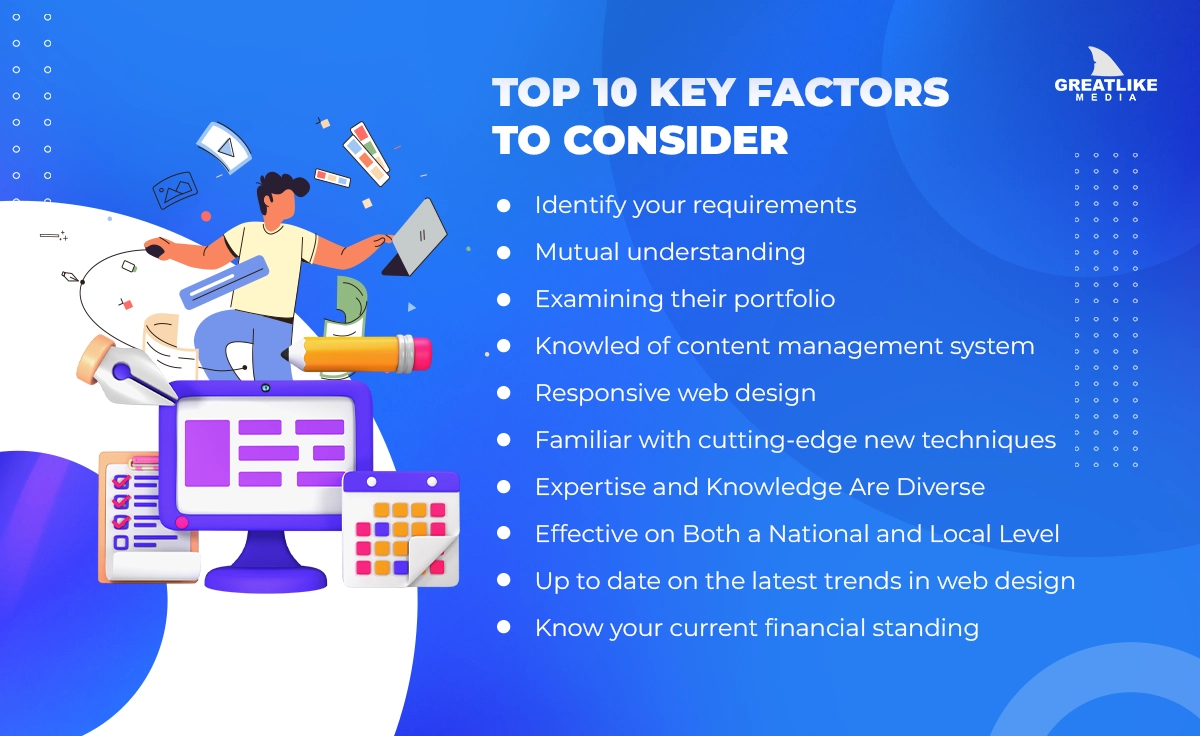 1. Identify your requirements
Before making any aesthetic choices for your website, you should determine your company's needs. You may find out what kind of web page would meet your needs the most. 
For example, an e-commerce website is required to do business in the digital marketplace. Moreover, if you want to exhibit your work to the world, you need a portfolio website. Don't worry about it. As an expert web design company in Orange County can help you get it done and settle on the option that best serves your needs.
2. Mutual understanding
Only you have a complete picture of your business. Since you know so much about your industry already, you probably have an idea of how you'd want your website to explain what it is you do.
Find a partner that is a good listener to work with. Only an excellent listener can get to know you and your business well enough to be an effective collaborator. You've found the right web design company if they're eager to listen to your ideas and include them wherever possible.
To explore, polish, and ultimately realize your ideas, find a collaborator who is enthusiastic about doing so.   Having someone on your team who listens carefully to what you have to say should encourage more people to speak up and contribute. There's a limit to how much you can absorb about the various web design resources and methods.
GreatLike Media is an excellent web design company in Orange County that will challenge your preconceptions and provide new insights into the way your project may go. As we've already established, you know the ins and outs of the business like the back of your hand. However, only an expert can advise you on the optimal approach for your particular website.
The design of a website is more than skin deep. A specialist in creating responsive, search-engine-optimized sites that work well on mobile devices should be your first choice. Nonetheless, you should expect your designer to concentrate on and highlight all the details that set apart your site.
3. Examining their portfolio 
Professional profiles for web designers often include links to online portfolios. Browse their products to see what interests you. See whether the standards they've set for themselves have been met.
Do you like what you've seen thus far in their portfolio? Look into their prior deeds to see whether this is typical of their conduct. Keep an eye out for additional brands and businesses they've worked with. Is there anybody you happen to know here?
Next, put yourself in the shoes of a possible client by visiting the websites of a few of their existing clients to evaluate the quality for yourself. Analyze how each of your stops is similar and how it differs from the others. If every other website looks the same, then yours will too.
Study actual-world examples. Customers' problems and their resolutions would have been described in fine detail. Try to find out what it is that has benefited their consumers the most. Think about if these suggestions would have only satisfied clients' wants or really improved their business.
The information they supplied would have shown how they increased their clients' success in areas like sales, traffic, page load times, engagement, and loyalty to the brand.
4. Know their way around a content management system
The mere fact that a web design company does not use a content management system (CMS) is a red flag. A content management system is essential for any online presence. 
You will be at a disadvantage in the market without a content management system. WordPress, Magento, and Drupal are all examples of popular content management systems (CMSs) that every professional web design company should be acquainted with. 
5. Responsive web design 
You may consider responsive web design to be more than a fleeting trend. This is the best way to make a website right now. Even though there may be times when a mobile-specific site is required, responsive web design is always preferable. The increasing popularity of mobile devices makes it more important than ever for businesses to have responsive, mobile-friendly websites. 
Hire GreatLike Media to get perfect responsive designs that run well on mobile as well as on desktop!
6. Should be familiar with cutting-edge new techniques 
Your website has to have a modern look and feel with modern features. You should avoid any website that seems like it was built in the year 2000. Customers are more likely to return if the site is well-designed and easy to use.
A reputable design business will always take into account client comments. Your designer should be familiar with cutting-edge online practices including responsive design, mobile optimization, search engine optimization (SEO), parallax scrolling, and more. 
They need to be able to tell the difference between cutting-edge practices and tried-and-true standards. While designing your website, conversions should be your first priority.

7. Check to see whether they are steadily working to enhance themselves
The services offered by a professional web design company go well beyond simple site creation.  Such agencies have goals, measure their progress, and continuously improve their methods. After the site is live, they decide to stay since that's when the fun begins.
If your website's designer is keeping tabs on their progress toward certain goals, they're doing a fantastic job. Their assistance in reaching your goals will increase your profile and esteem.
8. Their Expertise and Knowledge Are Diverse
The fact that a web design company caters only to your industry may seem like a huge plus from your point of view. They are undoubtedly pros because of their exclusive focus on automotive-related website creation. As a result, your website will seem generic and dull, exactly like the other websites they've made in the last few weeks. 
To appeal to a wide range of potential consumers, it's ideal to choose a web design company that has worked on projects in a variety of industries. If you want to be successful online, you can't afford to create a website that looks like every other website.
9. They've Been Effective on Both a National and Local Level 
It's crucial to choose a web design company that can cater to your needs whether you're a local or national corporation. If your website was built by a web design company that has primarily worked with local firms, it may not be optimized for wider success. 
There is a significant difference between designing a website for a local audience and designing one for the whole country. The designer's experience with various target demographics and promotional strategies will determine how effective your website is as a promotional tool. Pick a web design company that has experience with both big and small businesses.
10. They are up-to-date on the latest trends in web design
Having a design that seems like it was made ten years ago is the worst potential flaw for a brand-new website. Future-focused design is essential for web developers. Gaining clients' trust online requires a modern, up-to-date design. The top visited sites are constantly updated to reflect the most recent developments in the industry. 
Any competent web designer should be up-to-date on the latest terminology and trends, such as parallax scrolling, responsive design, and flat design. They need not follow every passing trend. There has to be a balance between function and modern aesthetics. 
11. Take note of how the business operates there
Which do you think would be better to deal with a large, established firm or a tiny, niche operation?  However, how they operate and how well they operate with you as a consumer are crucial elements. 
If you want people to represent your brand honestly and with integrity, it helps to have values and a company culture that are compatible with theirs. 
You have the option of working with a big firm with a strong corporate culture and a large team dedicated to your website, or a smaller, more personalized boutique agency. Regardless, you should search for a company with a diverse staff, one that can bring top-notch expertise from a variety of industries to the table when designing your website.
12. Know your current financial standing
You should set a budget before arranging a meeting with a web design team in Orange County. You need to know where you stand financially. Due to the individualized character of most websites, it is difficult for designers to publish their pricing publicly. 
The first step is to get a quote that is specific to your requirements. The vast majority of designers are open to discussing cost-cutting measures with you, such as shrinking the scope of your projects.

Conclusion 
Finding the best web design company is no easy feat for business owners. The best piece of advice we can provide for starting going is to just start asking questions. You may learn a lot about the quality of different web design businesses by talking to other business owners. 
Pay close attention to comments, but watch out for spammy, fake testimonials. If you know others who have reviewed the firm online, reach out to them to find out what their experiences have been like. Finding a trustworthy web design company in Orange County, California that believes in the same things you do will allow you to focus on what you do best.
If you're looking to update your website and add the features that visitors want to see, building it from the ground up is your best bet. Need some assistance with a site redesign? Get in touch with us so that we can arrange a consultation with one of our Orange County web design professionals.

Back to main posts